---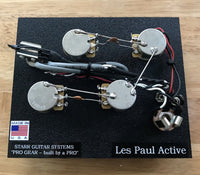 Gibson Les Paul ACTIVE PICKUPS (EMG) Wiring Harness

STARR GUITAR SYTEMS replacement electronics for USA made active pickup (EMG) Les Paul's. Get rid of the tone sucking PCB electronics on your modern Les Paul, or replace your old worn out parts with these premium replacement units! 

Included in each LPA system:
4) USA made CTS 25K audio taper long shaft pots. 3/4 inch tall threaded bushing with 3/8 inch diameter. 24 spline split knurled shaft. Includes nut, lock, and dress washer. These work best with push on knobs.

2)  

0.1 micro farad capacitors
1) Switchcraft Short Straight toggle switch with black cap & 18 inch heavy duty 4 conductor wire.
1) Switchcraft 1/4 inch stereo #12B input jack 

1) 9 volt battery clip

1) Wiring diagram (sent via email)
1) Assembly template board


Each set is assembled, hand wired and soldered in the USA using premium parts. All units have their own serial number, and are signed by Dave Starr.

Note: Most guitars manufactured overseas in Korea, Japan, China, Indonesia and Mexico use 6mm metric pots and have metric sized holes drilled. You will need to enlarge the pot holes to 3/8" to fit these CTS pots properly.