---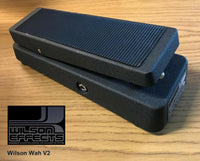 Wilson Wah Pedal - V2 Model
The Wilson Wah V2 was designed to replace not one but two Wilson effects flagship wahs, the Signature Wah and Wilson Wah.
Designed with the set it and 
forget it type of player in mind the Wilson Wah V2 is capable of emulating just about any vintage wah tone imaginable as well as more modern
sounding circuits. Whether you want the vintage quack of an 60's era Vox Clyde McCoy or the throaty sound of the early Macari wahs you can set it up
the way you want and not have to worry about losing those settings.
There is an available vintage settings sheet that you can download that gives you 6
different vintage wah settings to choose from or you can create your own. These settings aren't just suggested settings they were developed by tuning
the Wilson V2 side by side the vintage wah. That is how we know this wah nails that tone! Here's what Wilson Effects puts into each of these fantastic
circuits.


Built with NOS tropical fish capacitors

Carbon Composition Resistors throughout the Wah circuit

BC109B Transistors

Wilson Effects custom made early Clarostat Cloned potentiometer

True Bypass with LED indicator

Fuzz Friendly output buffer, so your pedal works well with fuzz and overdrives

Custom wound Wilson Effects Inductor

Growl trimmer - adds bass and gain to the circuit if desired or eliminates it

Mid-Range trimmer - adjusts the amount of mid-range in the sweep of the wah

Sweep Range trimmer - adjusts the width of the sweep or depth if you prefer

Boost trimmer - The Wilson Wah V2 has an incorporated boost circuit that allows you to push the volume far beyond unity gain. Actually I highly
recommend not using full boost as it can cause unwanted noise and actually breakup your amp.

6 Position DIP Q Switch - This allows you to dial in just about any wah sound imaginable.

The pedal also uses Neutrik input and output jacks and runs off of a 9 volt battery or center negative Boss style power supply.


Why pay too much for vintage tone when you can get it for a fraction of the price at Wilson Effects!
LINK to Vintage Wah Settings Guide:
We are proud to be official dealers of Wilson Effects. All pedals are covered by a one year warranty on parts and labor and are hand built right here in the U.S.
Price includes USPS PRIORITY MAIL SHIPPING!