---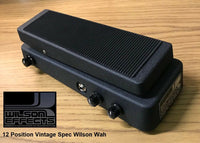 Wilson Wah Pedal - 12 Position Vintage Spec
The Wilson Wah takes the classic vintage wah circuit and modifies it to increase the bass response on the input of the circuit. This gives the pedal a thick and fat sound. Another modification allows the growl control to have more of a scratchy throat sound that is quite unique compared to the Q-Wah series.
This wah is fat and spongy sounding right out of the box and can be tuned to copy a variety of other wah tones.
There is also a twelve position model of this wah. The main difference between the exterior controls on this wah and the rest is the Q selector has more subtle settings allowing you to fine tune the pedal when using the Q selector. There are also exterior sweep controls and exterior growl controls. Great for tuning on the fly and when used in conjunction with the interior volume control the possibilities are endless. All Wilson wahs come with a built in fuzz buffer with this volume control included. This allows you to tune the pedal to unity gain or to boost the signal above unity so you can cut through the mix in a live setting. All of our pedals are built with a true bypass circuit therefore not sucking the life out of your signal when in bypass mode.
The Wilson Wah operates on an industry standard 2.1mm center negative power supply or a high quality alkaline battery.
We are proud to be official dealers of Wilson Effects. All pedals are covered by a one year warranty on parts and labor and are hand built right here in the U.S.
Price includes USPS PRIORITY MAIL SHIPPING!