---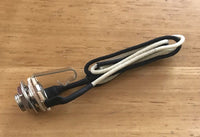 Switchcraft SILVER Input Jack with GAVITT vintage cloth covered 22 gauge wire
Hand made in Houston Texas with a 1/4 inch USA Switchcraft Mono #11 Input Jack & GAVITT vintage style cloth covered 22 gauge stranded wire!
GAVITT pre tinned vintage cloth covered wire, white (hot) & black (ground)
Heat shrink protection on both terminals for extra strength & durability
Includes star washer, nut, and dress washer. Requires 3/8"-diameter mounting hole; 3/8 x 32 threaded portion is 1/4 inch long.
5% Discount for Parts, Quantities over 1, any combination! (Discount shown in cart)